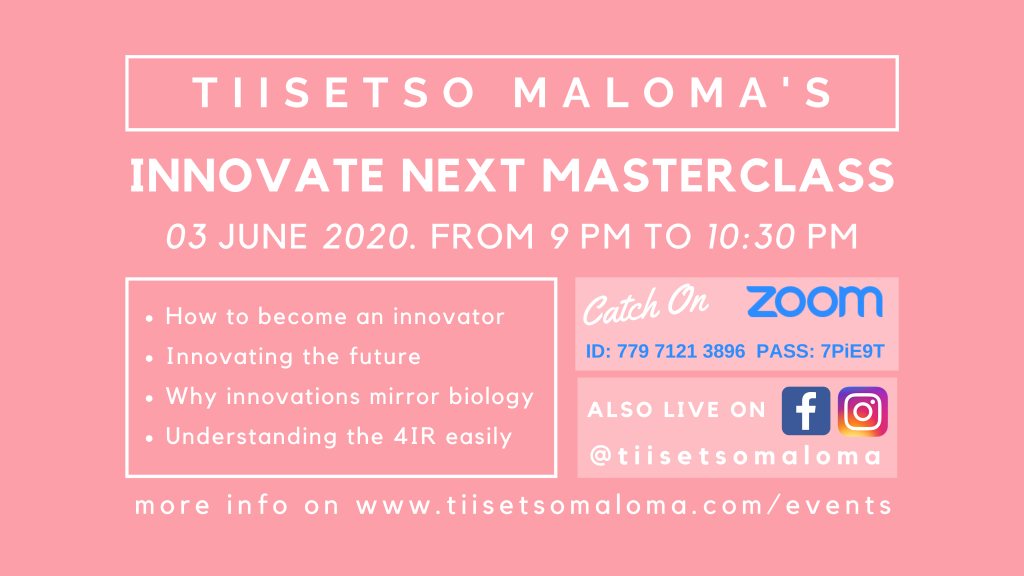 Join me on Zoom, Instagram Live and Facebook Live, at 9 PM to 10:30 PM on Wednesday the 3rd of June 2020, as I host my Innovate Next Masterclass.
The masterclass is an adaptation from my upcoming 6th book called Innovate Next, and a build-up from the last lecture I gave at Wits Business School titled How To See Into The Future.
THE MASTERCLASS GIVES ANSWERS TO THE FOLLOWING:
How to become an innovator?
Innovating the future
Why innovations mirror biology?
Understanding the 4IR easily
The masterclass examines and hacks the patterns that innovation follow. It deals with how we can forecast and participate as innovators. How we can arm ourselves with skills that make us entrepreneurs or employees with novel skills.
It is based on a collection of essays I've written, and research I have been embarked on, relating to innovation, industrial revolutions, evolutionary biology/psychology, entrepreneurship, The Human Greed Pyramid – which he devised, and entrepreneurship.
HOW TO STREAM THE INNOVATE NEXT MASTERCLASS
Zoom (app or web): ID – 779 7121 3896, Password – 7PiE9T
Instagram Live: App @tiisetsomaloma, web www.instagram.com/tiisetsomaloma
Facebook Live: App @tiisetsomaloma, web www.instagram.com/tiisetsomaloma
SET REMINDERS
Calendar https://bit.ly/2Xb8wkE
Facebook Live event https://www.facebook.com/events/690281668398967/