Book available at South African bookstores (Exclusive Books, Bargain Books, Protea Books, Loot.co.za, Takealot.com) | Amazon | Kobo | Barnes & Noble | iBooks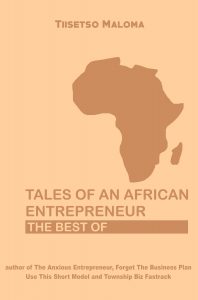 —
TALES OF AN AFRICAN ENTREPRENEUR is a collection of some of Tiisetso Maloma's best rated posts spanning over 7 years. He is a parallel entrepreneur, author and writer from South Africa.
In his most-times-anecdotal and uncanny writing, the book shares entrepreneurship and self-help lessons.
Popular articles included are: DATING ADVICE THAT CAN SAVE YOUR BUSINESS FROM A NO GAME ENTREPRENEUR, HOW MY GRANDMOTHER AND HER DAUGHTER (MY MOTHER) RUINED MY FIRST BUSINESSES AND THE REASONS WHY PEOPLE DO NOT WANT YOU TO FOLLOW YOUR DREAMS.
Being an entrepreneur in Africa is a different business. Most popular and outstanding entrepreneurship stories come from The West, and their application doesn't always fit. TALES OF AN AFRICAN ENTREPRENEUR unintentionally helps fill the gap.
His entrepreneurship profile includes careers he always wanted to pursue and did: accounting, DJ'ing, publishing, clothing, television, technology and a few others.
An entrepreneurship journey has countless failures, discoveries and lessons. Tiisetso says his is heightened with these experiences due to practising parallel entrepreneurship, which is starting and at the same time operating more than one venture.
By consequence of ever starting and running more than one business, he has honed the following skills which the book shares:
Starting a business the fastest.
And with almost no funds and resources.
Picking resources to do without and the minimal essentials to least do with in order to get a business on the road.
Marketing a business successfully without budget.
Managing entrepreneurship anxieties.