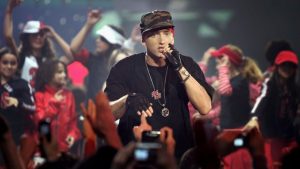 I am on a promotion of fourth and latest book, 'The Anxious Entrepreneur'. Do check it out.
When I was just little baby boy, my mama used to tell me this crazy things. She used to tell my daddy…. and so on the song goes. That is 'kill you' by Eminem, from the Marshall Mathers LP. I can still recite it from the top, and so many of Em's songs.
In early 2000, I was Eminem's biggest *biggest fan. I am not going to lie: It was a gruesomely competitive task.
To be his top fan then, I don't know about now, you were up against many fanatical (crazy) kids across the world. In my case – to make it worse- I was up against my very own little brother. He was a tad below me – he knows this.
The one dude Emimen's biggest *biggest fans could not touch was Stan. Who could go up against Stan? No one! Stan was the dude.
'Stan' has even been converted into a noun describing a person who is an "overzealous maniacal fan".
D12's Purple *Hills EP was the first CD I ever bought – before that I was buying cassettes. I was 14 years of age. I purchased it at Musica Polokwane for R39.99 in 2001.
On that day I purchased cassettes also; Ghost House Vol1, 45 BPM by The Heady Dee Crew and Kabelo's Pantsula for Life album.  I was working on a budget. The only reason I purchased the CD was because it is an EP and therefore cheaper. Cassettes were R29.99 and CD's were R69.99 plus.
To be any artist's number one fan is a lot of effort. You see them featured in a magazine, you have to buy, borrow or steal.
To be an Eminem's biggest  *biggest fan, you were up against the following:
You can't win against Stan. Good thing he is dead.
Kids who dressed the same as Eminen
Did hairstyles like Em
Spoke like him
Recited all his songs from the top
Flew from Europe to the USA to see Em perform live
Got tattoos like Em
Got tattoos of Em
Treated their girlfriends like Stan
Talked trash to their moms just to feel like they are Em
Or at least faked doing all the above
I am still a fan but just not the biggest *biggest fan. I could not keep up. Too much competition bruhh..