FORGET THE BUSINESS PLAN USE THIS SHORT MOD – Book available at South African bookstores (Exclusive Books, Bargain Books, Protea Books, Loot.co.za, Takealot.com) | Amazon | Kobo | Barnes & Noble | iBooks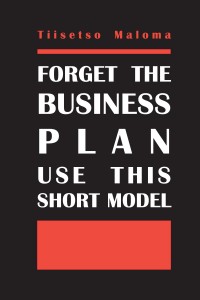 FORGET THE BUSINESS PLAN USE THIS SHORT MOD is an entrepreneurship management tool or business model called EBC Business Model Canvas. EBC stands for Essential Business Components. For a free one-page EBC Checklist, find or download on Google.
This book is an entrepreneurship made uncomplicated and efficient!
In 49 pages (of 114), this book points out what is important and crucial for an entrepreneur to concentrate on.
The book thoroughly explains the 6 essential business model components: 4 core technical components and 2 that deal with the entrepreneur's attitude health, decision making swiftness and their persistence.
It's a guidance of what is vital in running a profitable, sustainable and growing business.
It is about creating and/or innovating value; turning revenue on the value and growing your venture.
This model is not limited to venturing by entrepreneurs; it's usable by other value providers: consultants, freelancers, photographers, musicians, designers, engineers etc.
It beats a Business Plan because it teaches and is way less tedious to prepare; it's shorter, agile, simpler and efficient. It's meant to make things easier for entrepreneurs by keeping main things main.
The model is devised on actual experience in various entrepreneurship ventures so you'll get best information in FORGET THE BUSINESS PLAN USE THIS SHORT MOD. It based on success a lot of failure, testing, research, innovation and the ever need to be efficient.