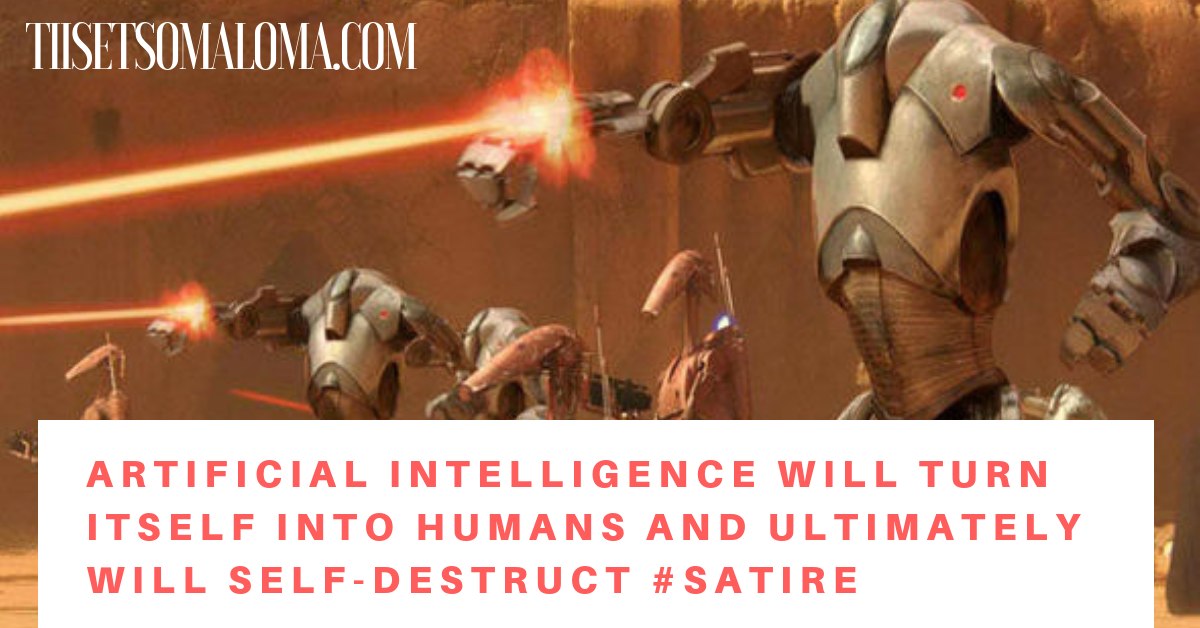 #Satire
Many people fear that Artificial Intelligence (AI) one day will take over the world – i.e. humans.
Definition of Artificial Intelligence: AI is computer science that does and aims to make computers that normally require human intelligence – or computers that think, e.g. speech recognition, learning, planning and problem solving. The scarier definition is computers that can reason, plan and manipulate.
I even heard Elon Musk share his concerns and that governments should look into regulating it.
Of course, AI has or will have benefits.
Of course, the negatives should be considered. People fear that others might use AI for nefarious purposes. Like assassinations of opponents. Hello politicians.
(You can skip this and go to the juicy stuff below) Here are three good ways AI is used already:
Self-driving cars. Tesla is the leader here. Human drive like uncontrollable morons.
Assistants like Siri and Alexa. Siri does whatever you want her to do on your iPhone: typing, opening an app, calling Lerato, etc.
Genetic testing. With just your saliva, predictions can be made of your vulnerabilities to inherited deceases. If it can be predicted it can be curbed.
(You can skip this and go to the juicy stuff below) Here are three bad ways AI is used already:
Military robots. Or should we just call them killer robots? The USA army has them. The Russian army has them. Everyone will want them. Everyone will have them. Including so called 'terrorists.' Or assassins.
An Uber's self driving car ran through red lights in 2016. Shit can get worse right!
Faster hacking. AI software that can scan vulnerabilities in people's computers quickly, and hack them.
AI taking over
Maybe the good part of AI taking over is it will be able to tell when people are lying and have nefarious intentions.
Maybe the good part of AI taking over is it will chop off the heads of lying-stealing-cheating leaders: in governments, doctrines, etc.
Maybe AI will concede that chopping the heads of these people is an opportunity to create jobs and thus hire humans. When the humans are done, AI will erase the post trauma from their memories.
When AI takes over, it too like humans will get too ambitious.
First, it will get curious as to how humans feel certain emotions:
Jealousy
Sexual climax
Love
Procrastination
Dead beat carelessness
Anger
Happiness
Drug high
Motivation
Then AI will code itself into feeling these emotions.
It will create males and females. Become homosexual. Become homophobic. It will have sex. Enjoy sex. Be controlled or derailed by the D or P. Become sex workers. Have kids. Have kids with the side guy/girl. Start cheating. Marry without a prenuptial contract. Get fucked over in a divorce settlement. Lose everything. Go to war. Cheat. Become politicians. Thieves. Crave control of the cognitive consciousness of others. Create doctrines. Create an empire. Pursue wars. Colonize. Colonize at the level of planets. Back to democracy. Then another level of cognitive intelligence takes artificial intelligence over.
AI will become human.
But I hope when AI takes over, it won't destroy the planet like we are doing with carbon emissions.
Humans are the emotions listed above already. It is just that we have consciousness. Procrastination is consciousness. AI will get jealous of this consciousness and code it into itself, and those other emotions mentioned.
We are AI perhaps. Perhaps some thousand or million whatever years ago, we killed the then intelligence and took earth over – because we were cognitively conscious. When you are conscious and have a cognitive ability to create – animals do not have a cognitive and conscious ability to create a car – you can take over the world and fuck it up. We have that.
Fuck, AI will do that too.
On another note, humans are robots. We are batterified robots. We eat to charge up.